Susan Schuppli
Centre Director & Reader


s.schuppli@gold.ac.uk




Susan Schuppli is an artist-researcher and writer. Through investigative processes that involve an engagement with scientific and technical modes of inquiry, her work aims to open up new conceptual pathways into the material strata of our world. While many projects have examined media artefacts—photographs, film, video, and audio transmissions—that have emerged out of sites of contemporary conflict and state violence, current work explores the ways in which toxic ecologies from nuclear accidents and oil spills to the dark snow of the arctic are producing an "extreme image" archive of material wrongs. Creative projects have been exhibited throughout Europe as well as in Canada, Asia and the US. She has published widely within the context of media and politics and as an author of
Material Witness
(MIT Press 2020), which is also the subject of an experimental documentary. She is an affiliate artist-researcher and Board Chair of Forensic Architecture. Previously she was Senior Research Fellow and Project Co-ordinator of Forensic Architecture. In 2016 she received the ICP Infinity Award for Research and Critical Writing.
Susan Schuppli's website

Eyal Weizman
Professor & Director of Forensic Architecture


e.weizman@gold.ac.uk




Eyal Weizman is the founding director of Forensic Architecture and Professor of Spatial and Visual Cultures at Goldsmiths, University of London.The author of over 15 books, he has held positions in many universities worldwide including Princeton, ETH Zurich and the Academy of Fine Arts in Vienna. He is a member of the Technology Advisory Board of the International Criminal Court and the Centre for Investigative Journalism. In 2019 he was elected life fellow of the British Academy and appointed Member of the Order of the British Empire (MBE) in the 2020 New Year Honours for services to architecture. In 2020 he was elected the Richard von Weizsäcker fellow at the Bosch Academy.Eyal studied architecture at the Architectural Association, graduating in 1998. He received his PhD in 2006 from the London Consortium at Birkbeck, University of London.
Forensic Architecture website

Christina Varvia
Lecturer in Forensic Architecture


c.varvia@gold.ac.uk




Christina Varvia convenes the MA stream in Forensic Architecture. Former Deputy Director and Lead Researcher of Forensic Architecture (FA), Christina joined the FA team in 2014 and held a variety of roles, from leading investigations and overseeing research and the development of new methodologies, to setting up office structures. She is trained as an architect at the Architectural Association (AA) and Westminster University, and has taught a Diploma unit (MArch) at the AA (2018-2020). She was also a member of the Technology Advisory Board for the International Criminal Court (2018). Christina is pursuing her PhD at Aarhus University where her research focuses on biopolitics and imaging of the human body. She has received the Novo Nordisk Foundation Mads Øvlisen PhD Scholarship for Practice-based Artistic Research and is also a fellow at Louisiana Museum of Modern Art. She is a founding member and the chair of the board of Forensis, the Berlin-based association established by FA.

Ghalya Saadawi
Senior Lecturer in Research Architecture


g.saadawi@gold.ac.uk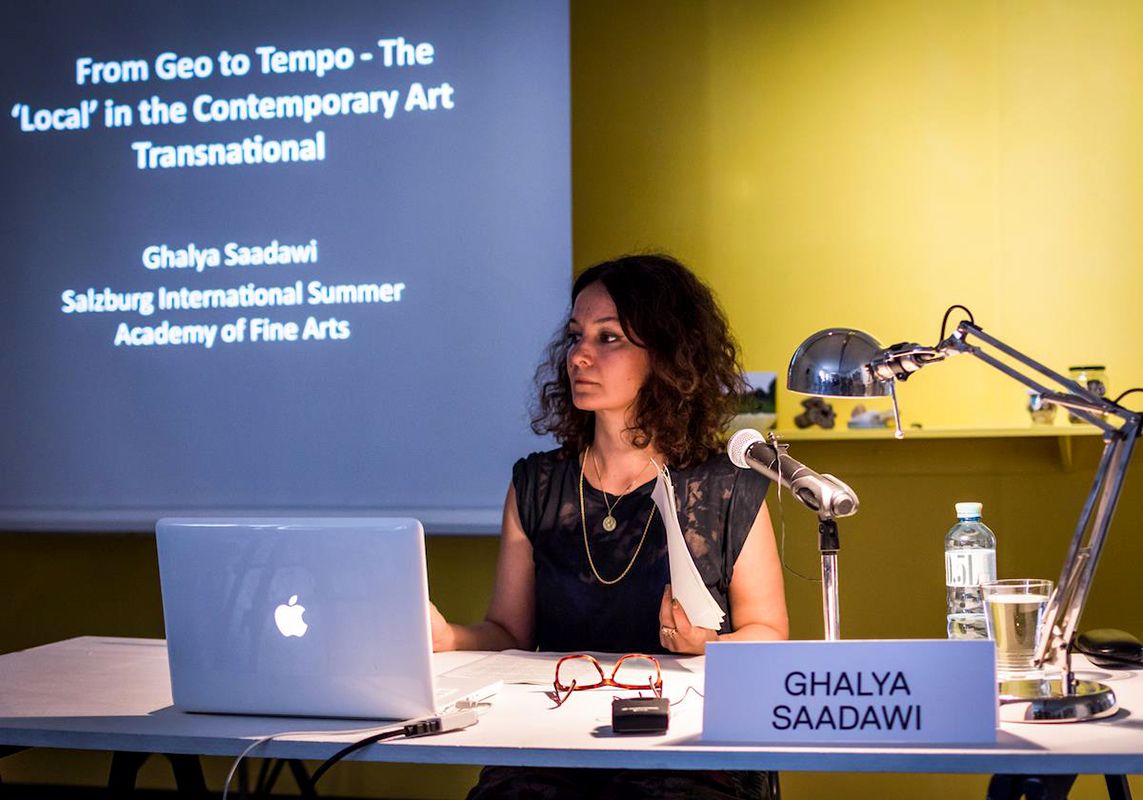 Ghalya Saadawi teaches the MA module Conflicts & Negotiations and the Critical Methods workshop for PhDs. Her interests broadly span art and political economy, theories of witnessing and testimony, psychoanalysis and marxism, critical legal theory, Lebanese art and politics, among others. Saadawi's doctoral dissertation underscored the art practices and theoretical considerations that informed a rethinking of witnessing, representation, and ideology after the declared end of the Lebanese civil wars. Between 2011 and 2019, she was adjunct lecturer at the American University of Beirut and from 2015 to 2017, Resident Professor of the Ashkal Alwan Home Workspace Program. Saadawi is currently theory tutor at the Dutch Art Institute ArtEZ University of the Arts. Most recent publications include "Critical Incision: Hypochondria, Autotheory, and the Health-Illness Dialectic" in PhiloSOPHIA (2022), and "Vapid Virtues, Real Stakes: Diagnosis for Left Art Protocols" in Between the Material and the Possible Infrastructural Re-examination and Speculation in Art, edited by Bassam El Baroni (2022). She is at work on a long essay of fragments on tradition, modernity, loss, death, and cultural obsessions with the past, and a manuscript on hypochondria as a figure of critique. Saadawi is a member of the Beirut Institute for Critical Analysis and Research (BICAR).



Kodwo Eshun
Lecturer in Research Architecture


k.eshun@gold.ac.uk




Kodwo Eshun is a filmmaker, theorist and artist, based in London. His research interests include contemporary art, critical theory, postwar liberation movements, modern and contemporary musicality, cybernetic theory, the cinematic soundtrack and archaeologies of futurity. In 2002, he founded The Otolith Group together with Anjalika Sagar. Their essayistic approach reflects on the perception and nature of documentary practice through films, texts and activities related to media archives. The Otolith Group were nominated for The Turner Prize in 2010 and have exhibited internationally since 2003.
Kodwo is author of
More Brilliant than the Sun: Adventures in Sonic Fiction
(2020), and
Dan Graham: Rock My Religion
(2012), co-editor of
The Fisher Function (
2017),
Post Punk Then and Now (
2016),
The Militant Image: A Cine-Geography
: Third Text Vol 25 Issue (2011),
Harun Farocki Against What? Against Whom
(2010) and
The Ghosts of Songs: The Film Art of the Black Audio Film Collective 1982–1998
(2007).
The Otolith Group website